Greetings backer type folks from planet earth! It's that time of the month again.. oops, maybe that didn't sound the way I meant it to. Well, It's the 16th of the month, which means, time for another project update!
SPACEVENTURE PROGRESS REPORT
So we're pretty excited about some of the things that have happened within the last couple of weeks. For one, we've added another intern to the team to help with some of the programming on the game. As we've mentioned in the past, the programming on the project has been the biggest time consuming thing, so having more man power there is a great boon to the project.
Two of the puzzles from the game are getting close to completion. As you can probably imagine when we get scene artwork done and lay it out into the game, get the "walkable" areas worked out along with "clickable" objects, that's all well and good but some of the scenes have some pretty "animated" puzzles that you'll have to solve if you plan to reach the bitter sweetness that is the end of the game. Some of these puzzles have been hanging over our heads for months now and to see them coming to fruition has been a huge weight lifted off. So I'm very happy to report that we've made good progress with that. I personally had the honor of getting one of them to the finish line myself 🙂
As always, more scene artwork has been given love from Mark (see below)
SPACEVENTURE REWARDS WEBSITE POST FROM OUR SENIOR DEVELOPER
For you developer types out there, be sure to check out a recent post from our senior developer, Tyler Drinkard. The post is entitled "Unity Coroutines". Tyler goes through some of the pros and cons with our engine of choice Unity, and dealing with coroutines.
Check out the post here (WARNING: IF YOU CAN'T LOG ONTO THE WEBSITE AND ARE A BACKER, PLEASE EMAIL pcj@andromedanpost.com )
INTRODUCING FOR THE FIRST TIME PUBLICLY, PLANET "TATOORAKUS"
I am beyond excited to announce for the first time ever one of the locations you'll be visiting in SpaceVenture, "TatooRakus". A beautiful, sunny, death ridden planet full of sci-fi parodies that will make you laugh, and probably cry in frustration. Please note that this scene is still a work in progress, no seriously, see the Mark images below.
MARK CROWE HARD AT WORK ON SPACEVENTURE
Below is some really cool photos of Mark Crowe working in his office earlier today. Soak it up, as he's got some pretty neat things laying around his office. And of course, what you see on his screen is a teaser for one of the main locations you'll be experiencing in SpaceVenture. 🙂
Don't worry folks, Mark didn't injure his hand in a vicious game of xenonian battle chess. That glove is just a tribute to the late Michael Jackson. Or it might be to help keep his hand from touching the screen while drawing, one of the two 😉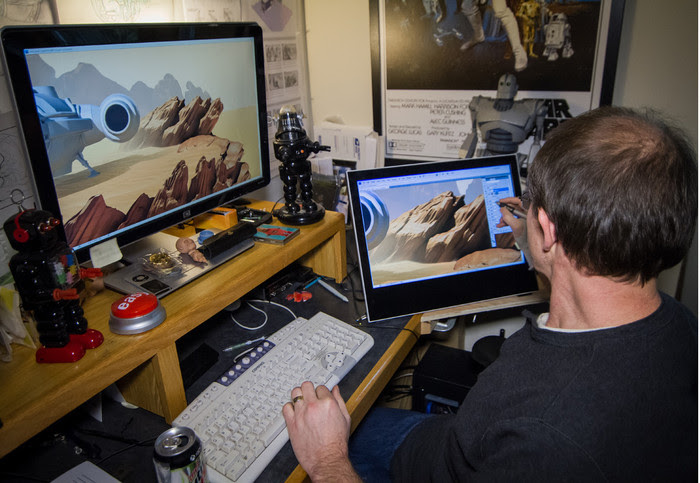 EPISODE 7 OF THE NEW BI-WEEKLY PODCAST BY THE SPACE QUEST HISTORIAN
"Xenon Rebel Radio Militia"
It's a new year, and the Space Quest Historian finds time to fiddle around with one of his more esoteric Christmas presents: an intergalactic subspace HAM radio. A mysterious transmission from ace reporter Chuck Clusterbluck is intercepted, but the mystery remains: who is this Chuck, and why is the Sequel Police after him? Rounding off the theme of glitches and game breaking hilarity of previous episodes, there are also some funny stories from the development of the upcoming SpaceVenture. And the gentlemen of rock, Brandon Blume and Ken Allen, present the final part of their SQ4 metal medley commentary – with a special extra treat from the musical talents of Frederik Olsen
or
OTHER SIERRA ALUMNI PROJECTS
The amazing Josh Mandel / Al Lowe's Leisure Suit Larry Reloaded
Jane Jensen's Moebius and Pinkerton Road Studio / GABRIEL KNIGHT: SINS OF THE FATHERS 20TH ANNIVERSARY  
Hero-U: Rogue to Redemption by the Quest for Glory designers – Corey Cole and Lori Cole
Under The Half Dome: An Album by Sierra Composer, Ken Allen
Thanks for all of your support everyone!
Chris Pope a.k.a your humble local intergalactic SpacePope