Leisure Suit Larry, our … um, hero. Larry is in Lost Wages hoping to meet the lady of his dreams. Or… multiple ladies of his dreams, if he can pull that off. Unfortunately, life isn't going to be that easy for Larry, who up until now (Age 40) had lived with his mother, locked away. So his fashion sense and pick up lines are all a little… out dated.

This Cab Driver has got to be the busiest person in all of Lost Wages… Either that or he's stalking Larry. Because whenever Larry needs a taxi ride somewhere – this guy seems to be right there, ready to give Larry a ride. Too bad none of the ladies were as willing to ride with Larry.

These are the dancers at the club – they're among some of the other talents that appear at this place. Including a comedian with some good jokes… and some bad jokes. Larry can try to hit on these show girls, but they don't want anything to do with our lovable loser.

The dealer at the casino. She's here to deal you cards and nothing else. She's all business. Try your luck at gambling and hope you score… because that's the only scoring you're doing with this fine, young woman.

The bouncer at the disco… there's no messing around with this guy. If you don't have the pass, you're not getting in – as simple as that. So make sure to get a pass if you want to get in.

Disco patrons… everyone looks to be dressed just like Larry… so if you're hoping to make an impression in this place, Larry, you're going to have to do something to stick out, and just just… fawn over the only woman in this place!

The drunk guy at Lefty's… man's clearly down on his luck… and probably doesn't need another drink… or does he? He's at least coherent enough… sort of… to talk to you if you want to see what his story is… and maybe… just maybe… how he might be able to help you out … in the strangest of ways…

This is Eve… she'll be the apple of you eye in this game, and she's the last one you need to get to! You can get a better look at her, by looking at her.

Eve's dog… you'd think this dog is a stray dog walking around Lost Wages… and you might even feel sorry for it… but if you stand around too long outside, your sympathy might quickly vanish… you learn later that this canine belongs to the beautiful Eve.

Faith. She's a woman whose really fly. She's got the assets that just about any straight male would dream about. You can get a better look at her, just by looking at her.

Fawn can be found at the disco… where all the other disco goers (who bare a striking resemblance to Larry) all happen to be, well, fawning over her. You can get a better look at her, just by looking at her.

The flasher… Like Larry, he doesn't have much to offer. He's standing around outside the Quickie Chapel just waiting for you to walk in front of him so he can show you his goods.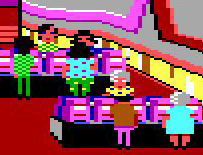 You're not the only one in Lost Wages trying to score big… these patrons of the casino are trying to score big financially… You will probably end up hanging out with them for quite some time.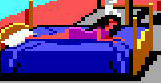 She's a… shall we say… a lady who gets paid to entertain gentlemen intimately for financial gain… So if Larry wants to score… here's an easy way… just be careful… You can also get a better look at it, by looking at her.

This is Lefty – he runs the establishment that you're dropped off at. He serves really strong drinks, and has patrons passed out around his establishment. He also runs… additional… business needs in the other room if you know how to get in there. As a side note, I don't recommend flushing in the restrooms. I don't know the last time he cleaned those pipes…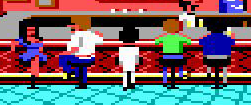 Patrons at Lefty's… the one guy in the white shirt is a chatter box… he will needlessly talk your ear off… the woman, she's a hottie – but she's not interested in you… probably because the guy in the white t-shirt has talked her into unconsciousness…

Qwiki Mart Employee – they're there just to sell you the things you need. They may ask you some… personal questions… if you purchase something from them. But don't worry Larry, I am sure they'd keep all your answers to themselves…

Quickie Wed uh… pastor… for lack of a better word. He's just there to quickly wed off folks who are in Lost Wages to tie the knot… what good would he be to you? I mean you're here to find the woman of your dreams – but would you find someone so wonderful you'd marry them the very same night? Well, you will find out soon enough… for the right price.

You know that fine lady who works so hard for her money, just upstairs… this is… her… um, care taker… he won't budge (and he's a big boy) unless you learn to channel your inner adventuring self and take control of the situation…

The Town Drunk… you can find him lingering around the Quickie Mart from time to time, just walking around, asking for spare change… What could a town drunk have to do with our own lovable loser? Well, just remember – be kind to everyone, because they might just help you out (especially in an adventure game!)

This is a blow up doll that you can find in Eve's closet. I can't imagine why Eve would have a blow up doll of a woman in her closet… Well, initially you might not think it makes sense… until you play Leisure Suit Larry 2 and everything becomes painfully clear…


The comedian in the casino has plenty of jokes. Not all of them are bad… but then all of them are not good either. He's accompanied by his drummer who taps the drum and cymbals when needed.

This is a police officer – and not to be confused with Sonny Bonds of Police Quest. If you see him, you've forgot to do something and he will chase you down very quickly.

This is… let's just call him… Steve. And he's currently jobless… so it would seem he's gambled all of his possessions away – and is now forced to walk around in a barrel… He may have something you need later in the game, so if you can help out "Steve"… I'd recommend doing so.

The scientists! These are the folks that fix you if you happen to do something wrong… like get run over… or fall to your death (yes, it can happen)… this one feature some guest appearances by King Graham and the dragon from King's Quest, along with a robot from Space Quest!
RELATED: