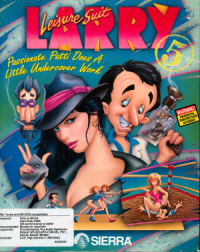 Leisure Suit Larry V: Passionate Patti Does a Little Undercover Work was released on September 7, 1991 by SIERRA ENTERTAINMENT.
You may be asking yourself, "Wait, wouldn't this technically be Leisure Suit Larry IV?" And Al Lowe would tell you, "No, it's Leisure Suit Larry V just like the box cover art says!" So what happened to Leisure Suit Larry IV?
The ending of Leisure Suit Larry III broke the "Fourth Wall" by showing Larry Laffer and Passionate Patti coming to the Sierra studios and making games based on their adventures, living happily in a mountain cabin in Coarsegold. Al Lowe never planned a 4th game to the series, and was being asked to continue the series; only he was at a dead end because he couldn't find a way to start it since the scenario had completed a story arc.
Swearing that there would be no Leisure Suit Larry IV, Al Lowe began developing Leisure Suit Larry V – and to do so, he claimed "the disks were missing" and that Julius Biggs (the owner of America's Sexiest Home Videos) had stolen the 'missing floppies' of the game and caused Larry Laffer to become amnesiac. And thus, Leisure Suit Larry V assumes that time has passed, and in that span, Larry Laffer is now in the adult film industry, working for a Mafia-connected company known as PornProdCorp. His job? To find models for America's Sexiest Home Videos.
Meanwhile, Patti is recruited by the FBI to dig up incriminating evidence on two record companies which are suspected of hiding subliminal messages in their songs. At the same time, PornProdCorp schemes to eliminate the competition in their industry by donating money to CANE (Conservatives Against Nearly Everything).
And that is why there is no Leisure Suit Larry IV and that is how Leisure Suit Larry V begins!
NOTE: Watching the videos may contain some spoilers, if you have not yet already played the game!
RELATED:
Manual/Copy Protection
The Ladies of Leisure Suit Larry 5
Music of Leisure Suit Larry 5
Leisure Suit Larry 5 Walk Through
Leisure Suit Larry 5 PC Demo