Or … at least, Leisure Suit Larry released in various packages and collections.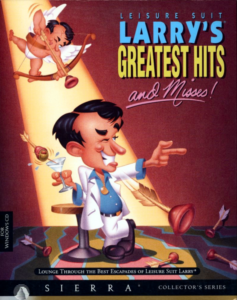 Leisure Suit Larry: Greatest Hits and Misses
Released: 1994
Contains:
Leisure Suit Larry 1: Land of the Lounge Lizards (EGA & VGA)

Leisure Suit Larry 2: Goes Looking For Love (In Several Wrong Places)

Leisure Suit Larry 3: Passionate Patti in Pursuit of the Pulsating Pectorals!

Leisure Suit Larry 5: Passionate Patti Does A Little Uncover Work

Leisure Suit Larry 6: Shape Up or Slip Out (Non Talkie Version)
It also includes the following:
The Laffer Utilities
Larry's Big Score (previously included as part of Take a Break! Pinball)
Leisure Suit Larry's Casino (an earlier, completely different game from the 1998 one; this one features minigames from previous Larry games)
Softporn Adventure (the DOS remake)
Video interviews with series creator Al Lowe
My Scrapbook (booklet featuring info about the series and games, as well as photos of the games' original documentation for copy protection purposes)
Demo version of Freddy Pharkas: Frontier Pharmacist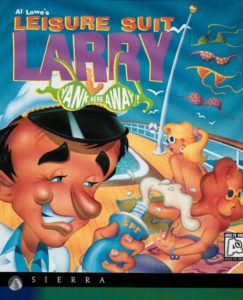 A promotional art piece for Leisure Suit Larry 7: Love for Sail! that appeared in SCORE Magazine CD 30, 06/1996.
More, as they say, to come…
In the meantime, check out Al Lowe's page.