LEGENDARY GARY OWENS PASSED AWAY
So as most of you have probably heard by now, the man with the golden pipes, Gary Owens, passed away on February 12th. We are deeply saddened by this news as I'm sure you all are as well. As you probably know, we had commitment from Gary that he would be the narrator for SpaceVenture as he was for Space Quest 4 and 6.
I had the honor of talking with Gary a few times. He truly was one of the nicest guys you would ever have the pleasure to talk with. Some fond memories I have of Gary involves talking with him about SpaceVenture and how excited he was to return as the narrative for another Two Guys From Andromeda game. I remember going over the lines that he would say for the Narrative skit that we did with Scott, and him bragging on the dialogue, all the while needing to "Xerox" a copy of the script to magnify the font so he could actually read it. He talked fondly of his family and his weekly lunches with other legends of the entertainment industry. Ultimately Gary was just an all around nice guy and positive thinker, just as you'd expect him to be, and he was very grateful for voice over work that came his way. The entertainment industry truly lost a good one on February 12th!
Mark took a moment to write the following:
"Hey Gang –
Scott and I are both very saddened by the news of Gary Owens' passing at the age of 80. What can we say- the man was a living legend in the entertainment biz whom we were both extremely privileged to have had the opportunity to work with and honored to have featured in Space Quest. It was definitely a high-point in our younger lives/careers and an experience I'll always look back on warmly. What makes this news doubly hard ,of course, is that (as you all know) Gary was to be featured as the narrator in Spaceventure. Unfortunately, Mr. Owens health fell into decline before we were able to record him. But what we want everyone to know is that, though we could never replace Gary as the narrator, we will work hard to find the right talent for the job.
Best,
-Mark"
Some links that might interest you involving Gary:
Amayirot Akago put together a video tribute involving Gary Owens voicing in Space Quest
Akril's Memorable Moments and Lines from Space Quest 4
Akril's Memorable Moments and Lines from Space Quest 6
SpaceVenture Narrator Skit that Scott Murphy, Chris Pope, and Gary did together
Guys From Andromeda Podcast with Gary Owens
_______________________________________________________________
INTRODUCING CLUCKY BIRD, A CLASSIC CLUCK YEGGER ARCADE GAME
As the story goes, the Two Guys From Andromeda once authored a marginally successful coin-op arcade called Cluck Yegger many, many years ago. They recently re-released the game in the form of a downloadable on galactic app store app, only to find that it completely took over as the top selling game (via paid advertisements). In fact, they originally made so many buckazoids on it, they felt guilty and ended up pulling it from the app store never to be played again. As a side note…Ace Hardway just happens to own one of the few remaining Cluck video arcade consoles in existance.
As a side not, we are excited about a catchy little 8-bit tune that will go along with the game as well!
_______________________________________________________________
MEET WELDON
Take control of Weldon and help him do what he does best, weld stuff!
_______________________________________________________________
A DEATH SEQUENCE TEASER
The below video is two fold. You're gonna get an updated look at the Scrapyard leading out of Scrap's garage, along with a fun little death sequence that can happen if you play your cards wrong, or right depending on how you look at it! 😉  Take a moment towards the end of the video to soak up some of the awesome pop culture scifi content inside!
_______________________________________________________________
AN UPDATE ON THE CRANEPIT
When you last saw this scene back in January, we showed you Ace walking along the navigation path. Here is an updated look at the scene, just like the Scrapyard scene, take a moment towards the end of the video to soak up some of the awesome pop culture scifi content inside!
_______________________________________________________________
AN UNSPECIFIED BONUS SCENE
The guys don't want to reveal too many details about this scene but lets just say Ace will be spending a lot of quality down-time in here.
_______________________________________________________________
A COUPLE OF BONUS IMAGES THROWN IN FOR GOOD MEASURE
Next up… an exclusive sneak peek at an exciting new gaming platform expected to be unveiled this year at ANDROMECON. Remember you saw it here first.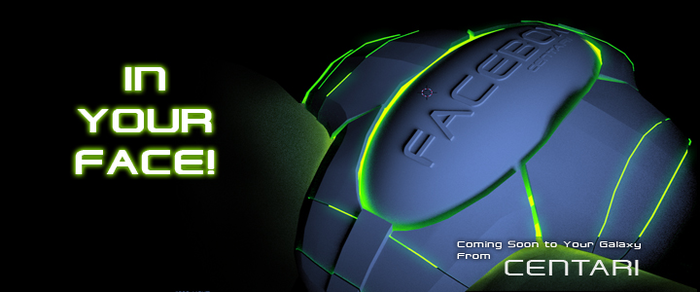 Thanks for all of your support everyone!
Chris Pope a.k.a your humble local intergalactic SpacePope