Hey everyone! I'm excited to bring you some updated news on how things are going with SpaceVentrure! We have definitely not been idle. The team has been very focused on moving forward and getting things done.
BUGS, BUGS, and MORE BUGS!
One of our biggest pushes as of late is to stabilize our most current build. We made a big three week push to knock out some issues we've had with certain scenes of the game. As we are moving into the 2nd and 3rd portion of the game, this is very important so that the same bugs don't keep cropping up in the later scenes. Not that dealing with bugs is the most exciting thing to do in the game development process, but I did want you all to know that we are pushing that hard.
OUR NEW DEBUG CONSOLE
Some of you keep asking for some under the hood stuff, so here you go. Recently, we had one of our programmers(Patrick Johnston) create us a debugging console that would help in turning needed things on and turning unneeded things off while we play tested the game. One good example of this is when we are play testing a scene in the game and in order to solve it, we need a specific piece of inventory or another situation is where we might need to jump scenes quickly or flag a function on or off. We had ways of doing this in the past, but with this console, life is much nicer 🙂
NEW INVENTORY UI
We're also very excited about how our inventory UI is coming together. One thing we are really trying to push is intuitiveness on SpaceVenture. The old inventory UI was located at the bottom of the screen and all you had to do is move your mouse cursor down to the bottom and it would appear. The problem with the old inventory UI is that it took up a lot of space that could be put to better use in game play.
See below:
We've created a small icon that (at the moment) appears in the upper left hand corner of the screen. You can move your cursor over it and the inventory springs to life. Don't worry, there will be more than one way to get into the inventory. But with this method, we've freed of major real estate at the bottom of the screen.
Check out this small video I made demonstrating it:
https://www.youtube.com/watch?v=8IpMAIc_CO0&list=UUS-eEjsG3ZgQYghoaGuVNFgPlease ignore the fact that the icons are so big when you click on them, that will eventually be modified.
THE BABY MAN GETS LIT UP
One of my favorite characters in SpaceVenture is little guy named Milo. He's a tricky little sucker and he plays a major role in the goings on within the game. Is he a good guy? Is he a bad guy? Is he a baby? Or is he a man? Or is he a baby man? Time will tell.
Mark was working on lighting effects for Milo. He put together a fun little video show casing what he was working on.
https://www.youtube.com/watch?v=I6SWeEEtlos&feature=youtu.beA NEW SCENE TO SHARE
You guys already know that the scenes for the 2nd and 3rd portion of the game are in the works, but I wanted to share with you a scene that will show up in both portions of the game. Keep in mind, it's still a work in progress and is without polish.
This is Scrap's garage, where Ace will often need to visit for different reasons. You might notice a couple of things are blurred out, but there is a really cool reason for that 😉
SEASON 2 OF THE SPACEQUEST HISTORIAN PODCAST HAS STARTED
That's right folks, the SpaceQuest Historian has returned and has put out the first episode for your listening pleasure. See below.
EPISODE 13 OF THE BI-WEEKLY PODCAST BY THE SPACE QUEST HISTORIAN
"Fandom Through The Ages"
DESCRIPTION:
It's time for more podcast mayhem from the Space Quest Historian. Join him on a trip down memory lane as he recounts the genesis of on-line Space Quest fandom, ably aided by someone who was actually there from the beginning: Prof. Jess Morrissette, owner of the first-ever Space Quest fan site, The Virtual Broomcloset.
You'll hear from Chris Pope (the SpacePope) on what's going down with team SpaceVenture. Also, get the scoop on the Space Quest III soundtrack with input from composer Bob Siebenberg, music editor and sound effects maker Mark Seibert, and fan musician James Mulvale.
Listen to all of James' SQ3 cover tunes here: https://soundcloud.com/spacequest/space-quest-3-intro Listen to the original SQ3 soundtrack as composed and performed by Bob Siebenberg and Mark Seibert: http://www.spacequest.net/archives/sq3/soundtrack/ Oh, and Pete Toleman's in there, too.
How to listen?
LISTEN IN ITUNES or the RSS FEED HERE
You can also check out the SQ Historian website here: http://spacequesthistorian.com/
SAN DIEGO COMICON GOERS
Hey everyone, I'll be going to SDCC again this year and have always enjoyed meeting you all. Unfortunately Mark and Scott will not be making it out this year, but hopefully next year.
If you're coming out to Comicon, be sure to come by and say hi! I'll be announcing my location at different times. The best way to find me is by following me on twitter: http://twitter.com/thechrispope or shoot me a friend request on facebook: http://facebook.com/thechrispope
I'll also be carrying around the SpaceVenture collectible keycards. We give those out to the different Space Quest/SpaceVenture fans we meet in person.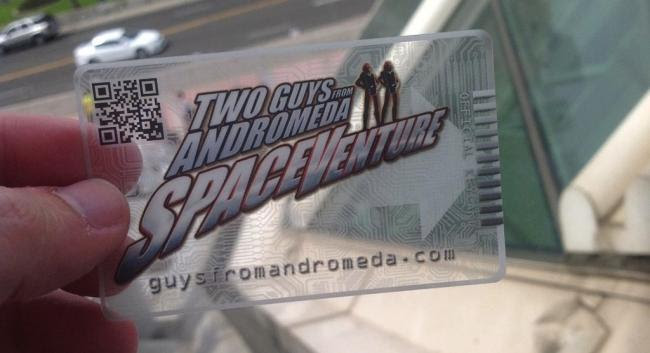 A SHOUT OUT TO OUR FRIENDS AT INFAMOUS QUESTS
Our buddies at Infamous Quests released their new game "Quest for Infamy" a few days ago and all you Sierra fans out there will most likely love it! So please go check it out here: http://www.infamous-quests.com/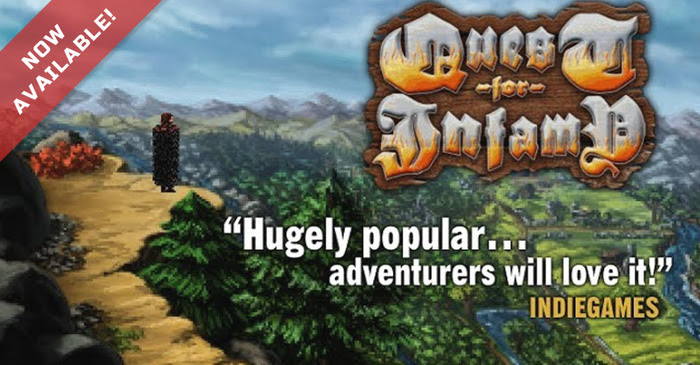 Thanks for all of your support everyone!
Chris Pope a.k.a your humble local intergalactic SpacePope