Well, it's been an exciting couple of weeks here at Hero-U HQ.  With some serious help from Ken and Sue at Pugsly's Trading Post, I managed to mail out about 3/4 of the "soft goods" packages. Then we ran out of one type of box, while having about 150 extra of another type.  Somehow I missed that lecture in applied post office mathematics.
We also ran into a slight snag with t-shirts, leading to a reorder.  So here's the scoop:
If your tier rewards were exactly one meep toy and a Hero-U baseball cap, we probably haven't mailed them yet. They should go out next week.
If you requested an XXL or XXXL t-shirt, your package is also likely to be delayed until next week. I think we were also short on about five other shirts.
Hero-U Key Ring
Missed Out?  Perhaps Not…
If you feel sad that you missed your chance to own an authentic piece of Hero-U history, Lori and I have decided  to make the Rogue to Redemption Softwear Collection available for a little longer.  I'm sure it has nothing to do with the 400 or so meep toys crowding our garage.  Still, they are really cute, and we'd hate to find out the bats ate them all.
Until we add our pre-order store to the Hero-U web site, you may use the Donate button at www.hero-u.net/KS-store to purchase meep toys or the whole soft goods set.  (Why a "Softwear Collection"?  When Lori and I married, I had her wedding dress sent to Olivetti, where I worked.  I told the dressmaker to send it to the "Software Dept.", which she wrote as "Softwear".  The company had a policy of inspecting all incoming packages, and I was much mocked for my apparent taste in women's clothing.  Lest you think, "Oooh, fancy, custom wedding dress!", well it was… from a stall at the Renaissance Pleasure Faire.)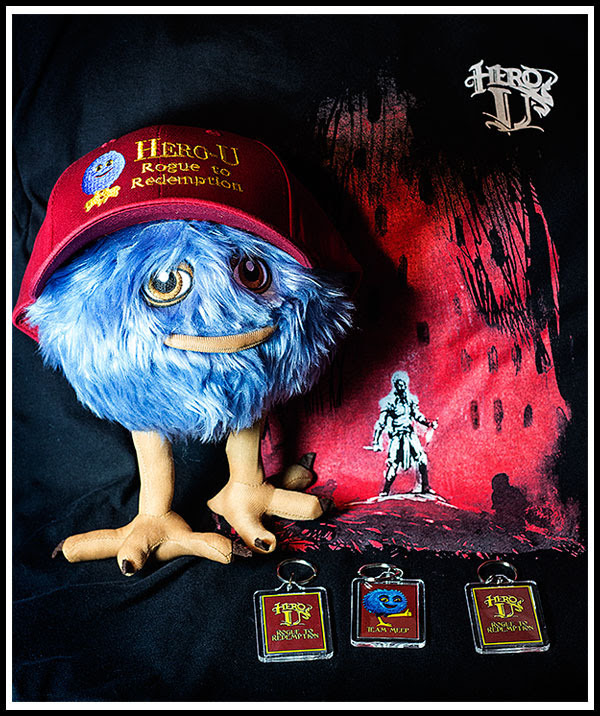 Rogue to Redemption Softwear Collection
Our price list:
Meep 8″ plush toy or T-Shirt or Cap – $30 + shipping, add $5 more to also get a key ring
The Softwear Collection:  Meep toy plus Hero-U t-shirt, baseball cap, and a key ring – $85 + shipping.  Add $5 for each additional key ring and $25 for each additional soft item. Make sure you specify your t-shirt size (S / M / L / XL / XXL / XXXL).
US/Canada/Mexico shipping – $5 First Class (Meep only) or $10 Priority Mail (either).  US customers also please add 8% Sales Tax on the product (not shipping) cost.
Worldwide shipping – For either item, $20 First Class or $40 Priority Mail.  You may also be subject to VAT when you receive the shipment.  (First Class is much more reasonably priced, but can take several weeks.  Priority Mail should arrive within one week.)
Make sure you send your order details, your full name, mailing address, and (if you're getting the Collection) t-shirt size to support@hero-u.net when you order.  Phone number is also helpful for our international customers.
Our profits on these sales will all go into completing the development of Hero-U.  If you have any questions, send email to support@hero-u.net
Shawn's New Moves
Last night we received the first set of animation for Shawn from Concept Art House.  We're very excited about finally getting to see him move around in 3D in the game.
We have an art meeting every Tuesday, usually the first time Lori and I see some of the new creations.  It's getting more amazing every week!  The artists have especially had fun with some of the crazier requests for in-game portraits.  Wizard about to be eaten by a bear, anyone? Or the… well, that would be telling!
Happy Chinese New Year to everyone – This is the year of the Horse. To honor that tradition, there will be a horse in Rogue to Redemption. Of course, it's a horse of a different color – It has been dead for decades. We could say more, but that would be beating a dead horse.