Tues. Nov. 13: We drove downtown to the main Chico post office that is supposed to have our mail. There was a line stretching around the corner and down the block. We decided to try another day.
Randy got his starter cup of coffee at Starbucks, but I still couldn't get the laptop to connect to the net. It would make the initial connection, but the login popup would never appear, and without that I couldn't do anything. A young woman from Starbucks came over to try and she couldn't get it to work either. Randy paid some bills while I futzed around with the laptop.
The hotel we're in now is a funky old place. It may date back to the 1950s or 60s, judging by the overall look of the place and the tilework in the shower stall. Very old and run-down, but clean and reasonably well maintained. It doesn't even have a breakfast room. But hey, the wifi works, so it will do. Interestingly, as with so many hotels over the past few years, it's run by an Indian-American. They've moved heavily into the hotel business.
We located a local place with good ratings called From the Hearth on the Main St. part of Red Bluff. It had had a clean, minimalist interior, but still inviting. The type of neo-Bohemian place where you order the food up front, get your own drink, then sit in a booth or table, and bus your own dishes afterwards. There was a large sign at the counter that they were offering free food to evacuees, so they fed us for nothing. The food came on a steel tray, no plate. I had a pulled pork sandwich that was excellent, and Randy's food was equally good.
I was finally able to buy and set up a VPN service, so we can do our internet business securely. I did some FB, but it was too late to get sucked into checking email.
We were too agitated by worrying about our house to go to sleep right away. We read for a while. Eventually around 1 am we tried to sleep. My mind kept churning. I didn't sleep much that night.
It's so many little things that jump into my head, and have been doing so over the past week as I think of objects large and small that we've lost. The biggest personal loss for me is the paper and records of my career: the original scripts and files in my filing cabinets, Jem memorabilia including the custom Lindsey Pierce doll recently made for me, the only remaining copies of my Sierra videogames, all of the comics I've written and comics from my childhood, the original art (Peter's and others), the books I've written, boxes and boxes of photos and slides. Luckily, I digitized a large number of childhood photos, but that's not the same as holding an old photo in one's hand or turning it over to see my mother's handwritten notes.
And then there were the objects of sentimental importance.
My brass-strung Celtic harp.
The utterly unique Viking bed that Peter made, carved and decorated by hand. The curio cabinet he made and carved with decorations, and all the knickknacks collected over the years that were displayed on it.
My mother's beautiful, carved antique dresser. My other jewelry. The hippie dresses I made in 1970. A special box of incense I kept from the 60s. The antique rocking chair my mother hand-painted.
The fossilized snail shell I found while hiking in the San Gabriel mountains. The agates that Randy and I collected on Agate Beach, and the beautiful little piece of jade I found there.
The books that Harlan Ellison personally signed to me, and he's gone, too.
The lovely, antique legal bookcases I bought in L.A. in the early 1970s, filled with scores of old books.
I find myself wondering, did the Green Man survive at the base of the oak tree? What about the Danville bricks on the porch? My mother and I pried them from the streets of Danville when they were paving over the old brick roads. They had the name "Danville" stamped into them from a time when there was once a huge brick factory outside town. I loved the fact that the "N" had been stamped in backwards.
While driving through Chico, we passed a lamp store where I took an antique Art Deco lamp to be repaired. It was lovely old thing that I bought in L.A. in the 1970s, too. Gone to slag.
The mental inventory is a quiet constant in the back of the mind, if not churning in the forebrain.
Yes, things can be replaced. Some things can. Some can't.
I find myself perfectly balanced between being devastated about losing everything that defined my career and feeling a bizarre sense of freedom from no longer having tons of Stuff anchoring me to any particular place. As Ted Sturgeon had Spock say (slightly paraphrasing), "It may not be logical, but it's true."
Wed. Nov. 14: We went back to the post office. This time we stood in line. They had agents moving up and down the line with change of address cards and to answer questions. As we got closer, a woman handed out large sticky notes and had us write our name and address on it. When we got up the steps to the doorway, another woman took the sticky note and directed us to the end of a long line snaking around the lobby of the post office past banks of antique post boxes. Beneath us was a very old tile floor with a pattern in it. An agent would bellow out someone's name or address as their mail was found. We inched closer. The whole process took an hour only to be told they had no mail for us. "That's not right," I said, "we ALWAYS have mail." "We're still sorting it," he said.
We had many phone calls back and forth with various claims adjusters. One is specifically looking for long-term housing for us. They talked about a six month lease. The six cats complicates things, of course. We discussed the various places that would be okay with us. Pretty much anything within reasonable driving distance of Chico.They were also trying to contact our current hotel in order to take over paying the cost, but they couldn't get through for some reason.
I finally accessed my webmail and found over 3,000 messages waiting for me. I spent a couple of hours wading through and deleting email. I'd say two-thirds of the emails were fucking Facebook notifications. I have hopefully got them turned off now. In the middle of that my mouse died. I was smug because I carry extra batteries in the laptop case, but when I pulled them out I found they were AAA for a different mouse. My current mouse wanted AA. So I had to run down the street to Raley's to buy batteries in order to finish slogging through the email.
Thurs. Nov. 15: Cereal and banana in the room for breakfast. I need to buy a toaster and blender so I can go back to my normal breakfast.
One of our errands was to a locksmith. Randy grabbed the fireproof lockbox that contains vital papers, flash drive back-ups, and a reserve of emergency cash. But in the general scramble, neither one of us remembered to grab a key. They kindly made new keys for us for free as we chatted with them about the fire.
Our neighbor with the cats across from us (back in the old neighborhood) called to check in. She had done research into how toxic and dangerous it is to sift through the ruins of a burned house and was giving us a lot of practical information about it – wear steel-toed boots, a respirator, gloves, etc. She read up on what sort of things tend to survive a fire: ceramics, papers inside metal filing cabinets, metal tools, that sort of thing. She recommended getting a storage space now while they might be available in case we salvage anything.
Shortly after that, we got a call from the home contents adjuster. By coincidence, she also began talking about salvaging, but she said they use mitigation teams. These are professionals who know how to go into burned ruins and salvage items. We'd sure as hell rather have someone else do it.
Meanwhile, the other adjuster had no luck at all getting our hotel manager to allow our insurance company to cover the cost of the hotel. The guy simply would not cooperate at all. The adjuster is going to try and get us into another hotel. I wish him luck.
We went to Big 5 (sporting goods chain) where we managed to find a pair of lightweight, but warm fleecy jackets on sale for a great price, some socks for both of us, and a shirt for Randy. Because we're evacuees, they have us an additional discount when we checked out.
The drive between Chico and Red Bluff is tedious. We're pretty damned tired of it already. We tried out another restaurant, a big typical American diner called Shari's Café and Pies. We liked the feel of the place. They served a butternut squash soup that was excellent. The rest of the food was good and you can't eat at a place with a name like that without having pie. We shared a piece of very good apple pie.
There were about three dozen firefighters eating there as well, from all over the place: Fresno, Los Banos, Merced, and even Montana. We saw them in a big group outside as we came in and thanked them for their help. Inside, another couple applauded them as they were leaving the restaurant, setting off a general round of applause. I don't think the guys knew how to deal with it.
Two things I meant to comment on and forgot. The air quality was appalling in Chico today. About the worst it's been. It's one reason we don't mind being up in Red Bluff. It isn't totally clear up here, but it's better.
We were told by one adjuster that we probably won't be allowed to go back to check on our house until Dec. 1. CalFire is projecting 100% containment of the fire by 11/30.
We stood in a long line at CVS Pharmacy to pick up a prescription. As happens everywhere these days, the rest of the people were also evacuees. We shared stories and sympathy.
We were running short of gas money, but we have a stash of emergency cash in the lockbox. It's cash from the game consulting job I did in Switzerland years ago. They'd given it to me for expenses and we simply put it in the lockbox for some future use. The future is here. I took a crisp, perfect hundred dollar bill from the stash and we stopped off in Chase Bank to break it into twenties. Chase had a table out offering snacks and bottled water and told us to help ourselves. We brought a large container of water back with us to replace the hotel water we've been drinking.
It was time to cancel the Comcast account as the gods only know when we'll have a TV or need an internet router again. But there was a 90 minute wait at the Xfinity office in the Chico Mall. "But you can do it by phone," the young woman said. So we did, and it was smooth and easy. They're obviously had to do a lot of this in the past week. The early termination fee was instantly waived and we even get a four dollar refund. LOL!
I was hoping to find a turtleneck for this cold weather. When we inquired of a young woman at Penney's, she commented with careless disdain that she hadn't bought a turtleneck since she was 14, but we might find them at Kohl's. Off to Kohl's we went. Most of what they had was tacky and unappealing. I'll stick with ordering one online from one of my usual sources like L.L. Bean, Landsend, or Eddie Bauer. But on the way out of the store, I spotted a nice camp shirt. It reminded me that I've lost my collection of camp shirts acquired over decades, many of them unique finds at thrift shops. This one was on sale for a good price, so I got it. It won't be warm enough to wear it for six months, but at least I have one as the start of a new collection.
We found some good shoes for Randy at another store. He's been needing a new pair of shoes. As we browsed stores, I was reminded of another collection we've lost, also acquired over decades – my fridge magnets. They represented many different phases of my life, places we've been, and there were irreplaceable Babylon 5 magnets.
We decided to go back to Shari's Café in Red Bluff for dinner. The place was again packed with firefighters, about a hundred of them. It turns out the restaurant is feeding them for free. No wonder they show up in hordes. It took us an hour to get fed, but we didn't mind. Those guys are our heroes. We heard they're being deployed for another week.
Randy's reading the latest statistics on the fire. 71 dead, over 1000 missing. The most deadly fire in American history in the past century. "We're living in history," I said, "we're a part of history. History sucks."
Among evacuees, the common questions at first were where were you (what part of town) and did you lose your house. In the past couple of days, the question has shifted to "Are you planning to rebuild?" I would say more people have expressed a "no" or have a serious reluctance to go back.
Randy and I have been discussing this a lot. It will depend on what our insurance allows and other factors, but right now we're leaning toward looking at new places to live. If we were in our thirties, it might be different. At our ages, we'll never see Paradise looking the way it did. It will take too long to recover. We won't have the big trees or the community. We won't have the range of services or infrastructure. We were told that the Paradise post office survived with minor damage and they plan to reopen in 30-40 days, but I find myself wondering who they'll deliver mail to. There's a lot to think about.
November 16 – I didn't mention the most important thing we learned today, mainly because it's so depressing. Lori, my neighbor, called again. She knew someone in the fire department who was able to drive down our street. He confirmed that everything is gone.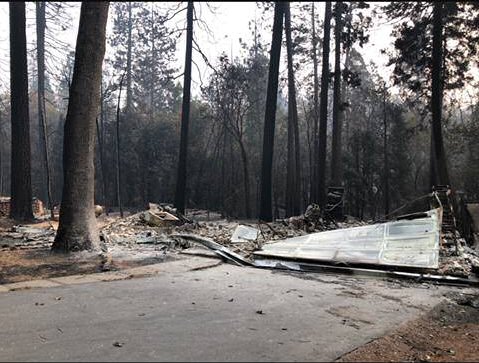 Only one house, several houses down from us, survived by some quirk. So now we know. Our house is definitely gone. The last shred of hope has been shredded.
November 17 – Newsflash: Al, a long-time friend of Randy's, has done an amazing job of connecting with someone else who lived on our street. That person had someone drive to our house and take a photo. So as of tonight, we have a first-hand photo of what is left.