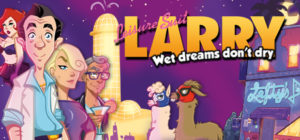 NOTE: Maurice (who is working on this game) took to Twitter and shared some thoughts, and put my mind to ease. See that over here.
Original article follows:
So there's a new Leisure Suit Larry game in the works by German based company, Assemble Entertainment being developed by the folks at Crazy Bunch. The title is Wet Dreams Don't Dry. The initial concern was that it looked to be another remake, because one of the early screens appeared to be Lost Wages, which we've already seen in the original EGA version, later remade by Sierra in VGA, and then most recently remade yet again a few years ago with modern graphics (and adjusted puzzles and a new female).
Here's the video that was posted on Steam:
Here's some of the screen shots also shared on Steam:
Certainly looks like, from the screenshots, they're going for the Adventure Game feel that Leisure Suit Larry was known for under the helm of Al Lowe, and not the type of game we saw (and suffered through) with MCL and BOB, which is – by appearance a good sign.
Will they be able to capture the personality and feel that Al Lowe developed for our beloved Larry Laffer?
That is my concern.
Share your thoughts with me on Twitter!