Audio clip: Adobe Flash Player (version 9 or above) is required to play this audio clip. Download the latest version here. You also need to have JavaScript enabled in your browser.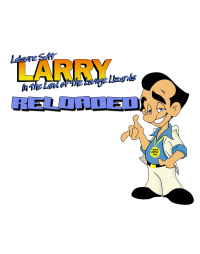 Leisure Suit Larry 1: In The Land of the Lounge Lizards Reloaded was a crowd funded Kickstarter campaign, designed by Al Lowe and Josh Mandel.
Much like the original Leisure Suit Larry 1 (both EGA and VGA before Reloaded), the game begins on the streets of Lost Wages, Larry Laffer has come here for one reason – and one reason alone. To finally get "Laid."
Being 40 years old and living with his mother all of his life, Larry has led a very sheltered life; and is now looking to live it up some!
So now, it's up to you to help Larry Laffer fulfill that one desire to finally feel the touch of a woman and be satisfied! Along the way you will encounter an assortment of women, who for the most part, will only live to further complicate and belittle our loveable hero, Larry Laffer.
Leisure Suit Larry 1: Reloaded has a few new additional screens; and many of the existing puzzles have been revamped (so old walk-thrus won't get you through this game!), and also includes a brand new girl in the game named Jasmine.